Online Payments
St George now operates a cashless payment system whereby you can make online payments for such things as school meals, educational visits and extra-curricular tuition. This means that it is no longer possible to send money to the college as cash payments. Payment will need to be made online by credit/debit card using the secure payment method Scopay. To credit an account without paying online, we also have a secure payment system at the college where accounts can be topped up manually using cash.
Cashless catering
Students are no longer able to buy food or drink at the college using cash. Instead each has their own credit account that is debited each time they make a purchase. Payment to the account is made directly by parents/guardians by depositing funds online using the secure payment system Scopay. Alternatively, accounts can be credited using the secure payment system at the college, which accepts cash.
Instead of paying by cash, each student's account is identified by their fingerprint/photo ID and accessed at the point of sale. The chosen purchases are then debited from the account and the balance carried forward.

An advantage of this system is that parents are able to view the purchase history for their child's account to track their diet and how much money is being spent.
Free school meals
For free school meals ,allowances are added to their account daily. However, unused money is not carried forward to the following day.
SCOPAY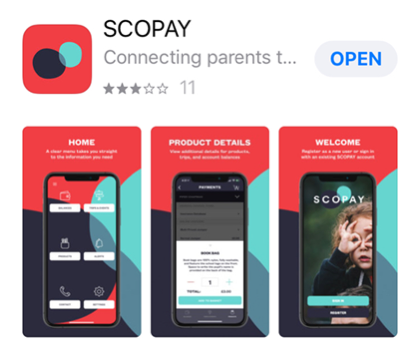 For parents who prefer the convenience of a mobile App then iOS and Android versions of SCOPAY are now available for download either via Apple's App Store or Google Play.
Search for SCOPAY Alternatively scan QR code.