Governor Building Fund
Parent Contributions to the Governor Building Fund
SCIENCE AND TECHNOLOGY BLOCK PROJECT
Our current science and technology building desperately needs updating so that pupils can benefit from the best facilities as part of their St George learning experience.
As you'll know we are planning to make this happen soon. We had site visits from potential developers just after October half term and we hope the tendering for the work will be successful. We are working closely with Southampton City Council and the Diocese of Portsmouth to make this happen as soon as possible. We will keep you up to date on progress as the project develops, please contact us if you have any questions or any ideas for fundraising. Some ideas of how the new building will look are below: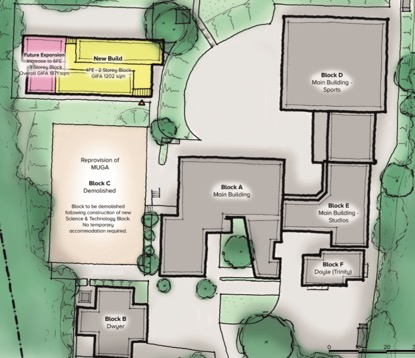 This will benefit the whole of the St George community and we need your help to make sure that it is a success.
Governor Building Fund and how to help ...
St George Catholic College is a 'Voluntary Aided' school, which means that we are required to contribute 10% of the costs of any capital projects, such as purchasing new equipment for the new science and technology block. We estimate the amount we need to raise for our new block in total is about £200,000 to furnish it with computers and state-of-the-art equipment for science and technology. With your help we think that we can meet this target. Other capital projects we are looking at are: replacing our boiler, building an additional girls changing rooms and providing a new electric gate at the front of the school.
We are initially asking for the families that can help us to give a voluntary contribution of £5 per month by standing order.
Contributions of more or less than this are also very welcome. As are one-off donations, and corporate sponsorship ideas– please contact us if you are interested in doing this.