Curriculum Overview
At Saint George, we ASPIRE to become all that God has created us to be. We intend for all our students to develop into well-rounded individuals and fulfil their potential to follow their own vocation.
In order to achieve this, we provide them with high quality experiences and opportunities both within and outside lessons. Our carefully designed curriculum is enriched and enhanced for their benefit.
We believe the best way to achieve the personal potential of each of our students is through an accelerated Key Stage 3 and an enhanced Key Stage 4, enriched by an excellent extra-curricular programme. We are a diverse and inclusive faith community and our curriculum needs to be able to meet the needs of all students and ensure that they ASPIRE to be all that they can be.
Our intention is to have a curriculum which:
a. Supports a Catholic, aspirational ethos across the college
b. Takes into account individual needs, motivations, interests and abilities
c. Provides a broad and balanced experience for all students
d. Develops relevant knowledge and skills for all students
Please see below for our current curriculum policy and most recent curriculum report.
At Key Stage 3 (Years 7 and 8), students follow courses in: English, Mathematics, Science, Religious Education, Technology, Information Technology, Geography, History, Modern Languages, Art, Music, Drama and PE.
At Key Stage 4 (Years 9, 10 and 11), students follow a common core of English Language and Literature, Mathematics, Science, RE and PE with four option choices in Year 9, which reduce down to three in Year 10. This allows students more time to study the subjects which they will benefit the most from, without narrowing the curriculum too early.
All students are supported and guided towards making their option choices, of which one choice must be either a language or a humanities, based on where their strongest performance is. We ensure the curriculum meets their individual needs.
Courses available: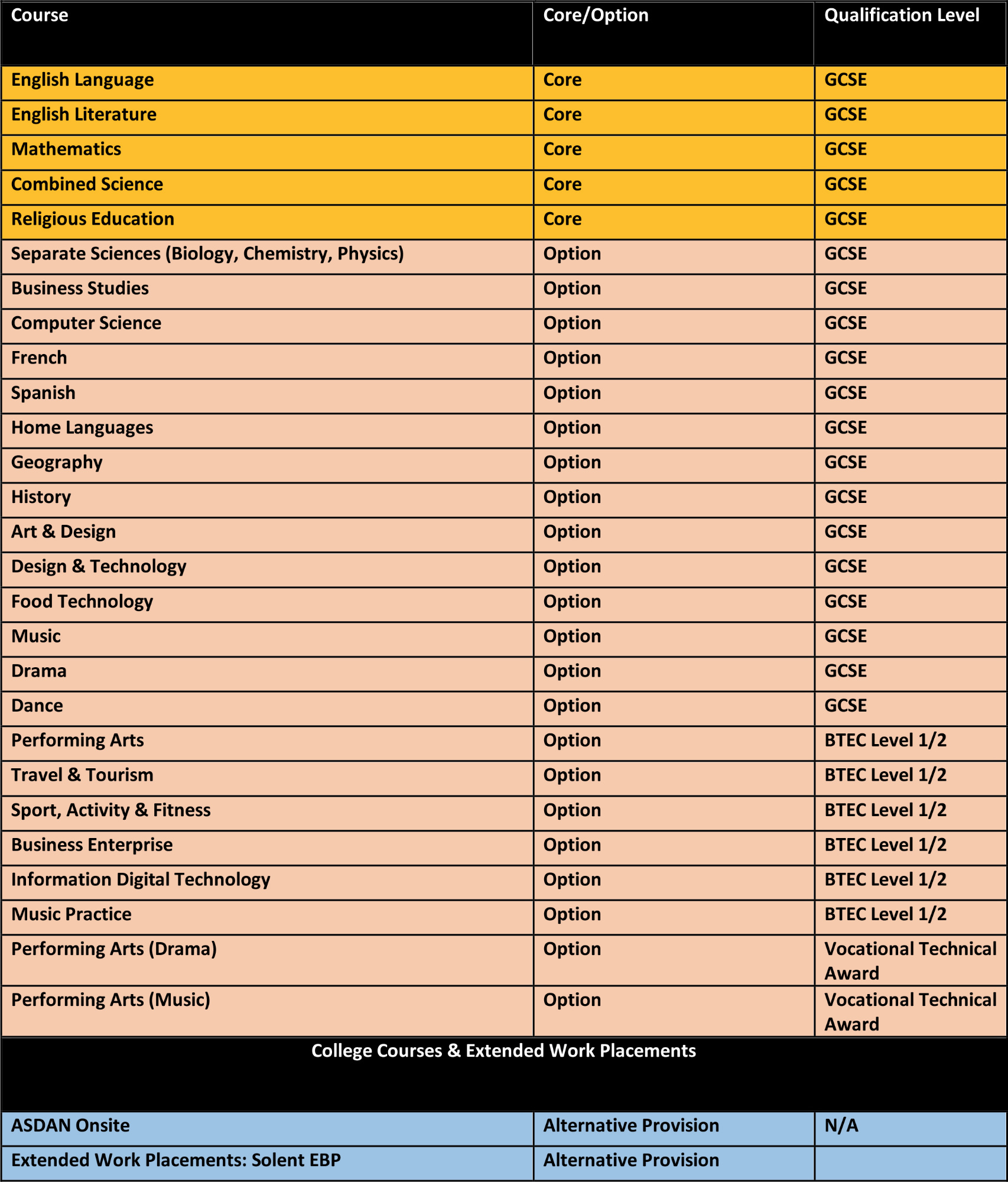 For more information about our curriculum, email head@stgcc.co.uk or edouglas@stgcc.co.uk.
Key Stage 3 Assessment - Life Without Levels
The St George bands in Year 7 are based on age-related targets, individual to the subject. All students should ASPIRE to be in at least the applying band. This will give them the best chance of securing a higher grade pass in that subject at GCSE.
To ensure all students are challenged to make progress from their Key Stage 2 starting point, they are given minimum target grades. There is no ceiling to their potential but we do expect students to make good progress over the year and this is reflected in their target grade.
Year 7 Booklet (PDF)
Year 8 Booklet (PDF)
Progress
To reflect the level of progress a student is making in each subject, we use symbols. If a student is working at current expectation, they are on course to meet their target grade at the end of the year