New Build on Schedule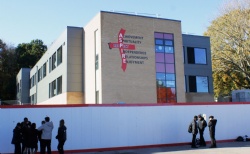 Good weather over the summer months has enabled the construction team to make rapid progress on our new building. The outside walls are finished and the inside is really taking shape. The building is now on schedule for completion by the end of the year with teachers and classes occupying their rooms in January.
November 4th: The ASPIRE graphic is added to the front wall, above the entrance to the new building.
Photographs of the building progress from the very beginning can be viewed on our gallery page