Our best ever GCSE results!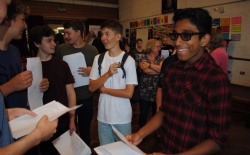 79% grades 4-9 (incl. English and Maths); 61%, 5-9
St George Catholic College is celebrating its best ever GCSE results – with 79% of students achieving the new grades of 4-9 (including English and Maths), and 61% getting 5-9.
In our first year of a mixed cohort, the outstanding results see us predicted to be in the top 5% nationally for the progress made by our students. They reflect the college's upward trend of the past five years.
There are many individual successes: one of our students achieved an extraordinary 10 grade 9s, another attained seven grade 9s and two grade 8s, and there are more with exceptionally high results. The grade 9 was introduced to recognise the very highest performing students nationally.
Head of School James Habberley says, "We are absolutely thrilled with these results, which are testament to the hard work and dedication of our students and staff."
Congratulations to the Class of 2018!