New Chapter for Library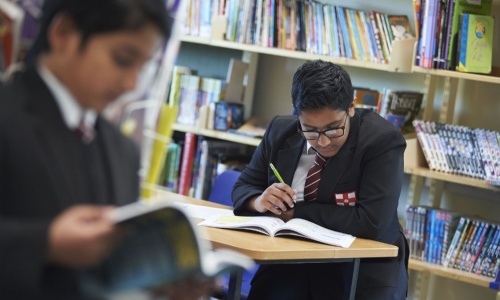 The library has a new location and starts the new academic year with some major improvements.
New chapter for the library
Our college library is starting a new chapter, with a new location, new computers, new opening times and many new titles to borrow.
Four PCs have been installed to support students with independent research and to help them to complete homework tasks. There is also extra seating and resources as part of the improvement programme.
From September, the library will be open before school from 8.20am to 8.40am Mon-Thurs, as well as at lunchtimes and break. Study Club will continue to run from 3pm to 4pm on Tuesdays and Thursdays, offering students the chance to catch up with homework and independent study after school.
A team of literacy mentors will support the running of the library, which is well-stocked with a range of fiction and non-fiction books. Students can borrow books for a two-week (extendable) period.
All students are provided with a library account; Year 7s joining us in September will be given an induction in their first few weeks at St George.