Ski Trip Pics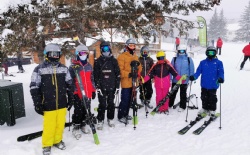 We have received news and photographs from students who are currently on our annual ski trip.
Our school ski trip to the Killington resort in Canada is going very well and all of the students are really enjoying themselves.
It has been cold in Vermont with temperatures as low as -14 but we have had superb snow conditions and all our students have shown excellent progress over the last 3 days.
Conditions look good for our final couple of days; we return Friday at 12.30.
Pictures from the trip are posted on our Galleries page View photographs