Building Begins...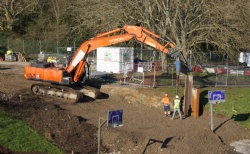 Work on our new science and technology buildings is now underway. Behind the screened-off area, diggers, augers and pile-drivers are laying the foundations for the new building.
Evidence of the work can be heard and felt around the school as the steel pylons that will support the structure are routed into the ground. We are currently installing a time-lapse camera that will follow the progress of the project and photographs of the development will be added here on the website and on our "New Building" page.
Our new multi-use games area (MUGA) is now in use and is providing a superb additional new sports facility alongside our existing all-weather pitch. The new MUGA replaces the previous games area that was situated on the site of the new building.