Knife crime video winners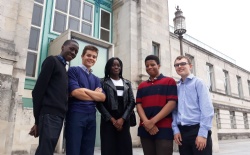 Earlier this year Hampshire police, in partnership with Southampton City Council and the Saints Foundation, launched a competition to find ways of tackling the issue of knife crime.
Secondary schools across Southampton were encouraged to take part in a competition aimed at raising awareness of the risks of carrying knives.
The winning entry was created by five pupils at St George - Kitone, Jamie, Elizabeth, Somi and Euan.
Shot in black and white to achieve the gritty realism required, the two-and-a-half minute video uses music to help get the message across.
It was screened at the SeaCity Museum in Southampton - and received a thunderous round of applause from guests at the ceremony.
You can watch the video via the link below.