GCSE Results 2019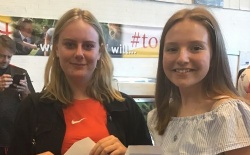 Congratulations to the Class of 2019!
St George Catholic College is celebrating another year of fantastic GCSE results – with 74% of our students achieving grades of 4-9 (including English and Maths), and 51% getting 5-9.
The many individual successes include several pupils who have attained seven, eight or even nine grade 9s in their exams. The grade 9 was introduced to recognise the very highest performing students nationally.
As a measure of the impact we have, the college's Progress 8 score of +0.5 shows that pupils have made exceptional progress during their time at St George: on average every child did better by half a grade than they were expected to across a range of subjects.
Results in BTEC qualifications were also outstanding.
Head Teacher James Habberley says, "We are absolutely delighted with the class of 2019 GCSE results. The students have worked incredibly hard, particularly over the last year and that will now allow them to go on successfully with their dreams and ambitions. Saint George has once again performed exceptionally well making it one of the highest performing schools in Hampshire for both progress and attainment."