Duke of Edinburgh Award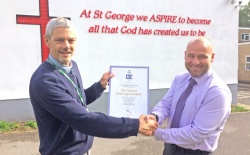 We are very excited to announce the launch of the Duke of Edinburgh's Award at St George's from next September. The DofE is a nationally recognised award designed to increase confidence, develop outdoors skills and give pupils an edge in their future prospects whether applying for colleges, apprenticeships, university or seeking employment. It is commonly cited as helping to increase self-confidence, improve a sense of responsibility and enhance teamwork skills.
The award consists of three levels: bronze, silver and gold. Each level comprises activities in volunteering, physical, skills and a final expedition. Each section of the award must be completed outside of the normal curriculum and guidance will be given to support pupils in their selection of activities evidencing of completion. Training for the final expedition will be in the form of workshop sessions and practice walks in teams of up to seven pupils. They will learn to navigate, plan routes and work as a team to plan for the successful completion of a two day expedition.
Mr Kerslake, new to the school from September, will be launching and managing the award at St George. We will initially be offering the Bronze Award for those pupils starting in Year 9 next academic year. Look out for the launch in the first term and in the meantime if you wish to find out more information visit https://www.dofe.org/