New skills on Ski Trip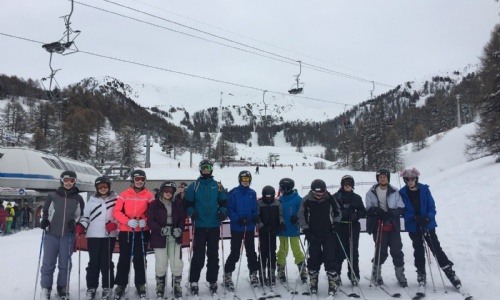 Our annual trip to Risoul was another huge success
Lucky participants left behind snowy England for even better snow in the French Alps on the 3rd March. Twenty-one students and three members of staff had an amazing week with slope conditions perfect for skiiers of all abilities.

A beginner group of 12 students started developing their skiing skills on a series of green slopes, eventually progressing onto blue slopes with sections of red. Meanwhile the slightly more advanced group headed straight for the blues, but by the end of the week were competent at many red slopes. All of the pupils progressed onto their next stars, which were presented at the end of the week and the instructors had nothing but nice things to say about the pupils' attitude and perseverance. The week was ended with some ski awards; John McC won the award for the quickest on skis with his speedy slalom race against a very quick Jerome M, while Sophia C won the award for the most spectacular crash!

The hotel staff ensured we were very well looked after and combined with great skiing conditions, quiet slopes and amazing evening entertainment, it made for a thoroughly enjoyable and advantageous trip for all students and staff involved… Roll on next year!