Odd Socks This Thursday!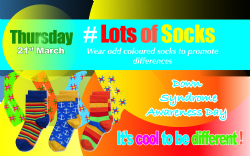 On Thursday (21st March2019) we are asking students to wear odd (colourful) socks to school.
This is in support of Down Syndrome Awareness Day and we want as many students and staff to show their support by wearing odd socks. This is not a non-uniform day, but you can make your socks as bright and colourful as you like. Wear your Odd Socks with pride!