St George Open Evening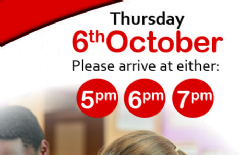 Thursday 6th October 5pm-8pm
We are really pleased and excited to visit prospective parents to visit St George on our Open Evening on Thursday 6th October between 5pm and 8pm. The event will give parents and carers the chance to tour our college, chat to our students and staff and get a sense of what our St George family is like. It is intended to inform parents and carers when selecting a secondary school for their child who may be starting in September 2023.
Please be aware that we are located in a residential area with only one access driveway into and out of school. If you live close enough to walk to us on the evening, we would encourage you to do so. There is parking on our site but spaces may be limited. Please be considerate of local residents when travelling to and from our college, and park responsibly.

The evening will start at 5pm and end at 8pm. We do not expect that parents will stay for the duration but would advise that you allow at least an hour for your visit so that you may enjoy a tour of the college with our students and have chance to find out more about what we offer here. Therefore, you may wish to time the start of your visit to 5pm, 6pm or 7pm.

We are an oversubscribed Catholic school and not a catchment school. Please see our Admissions page for more information about how to apply for a place with us, and how places are offered. Staff with be available at our Open Evening to help you make your application should you wish to do so on the night.

We look forward to welcoming you to our college on Thursday 6th October.
Please visit our Admissions page for more information and an introductory video by our headteacher Mr Habberley.