Used Uniform For Sale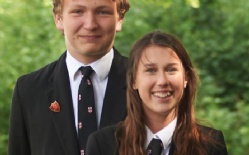 Dear Parents/Carers,
We are pleased to let you know that we now have a range of second-hand uniform for sale here at the College with all the monies going to our school charities. We are very pleased to offer this to our students and encourage the recycling of uniform.
If you have any spare items, or those that you no longer want, please send them in laundered and we will sell them on.
If you would like information on specific sizes and items in stock, please contact Miss Selena Bishop at uniform@stgcc.co.uk
Price list
Blazers - £5
Rugby shirts - £3
Everything else – including Shirts, PE tops, Polo shirts, Jumpers, Trousers, Skirts - £2
Students can come at lunch time (13:20 – 13:50) to try and buy. Parents can come in for 30 minutes between 15:45-16:15 on Fridays only.
Yours sincerely,
David Walford
College Chaplain