Bishop of Portsmouth Visits St George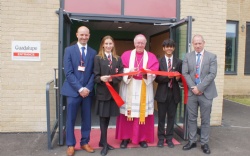 Official Opening of New Science and Technology building.
The Bishop of Portsmouth visited St George Catholic College on 24th June to officially open our new Science and Technology building. The event, which was postponed in February due to government regulations, was attended by; Headteacher James Habberley, visiting priests, key figures in the development of the project and our Head and Deputy-Head boys and girls.

Bishop Philip Egan was given a tour of the building and was impressed by the scale of the development and its excellent facilities. He was able to view science, technology and language lessons taking place and took a break for refreshments in our excellent new food-tech facility

The Bishop officially cut the ribbon and blessed the new building, in a ceremony that was broadcast live around the school using the Microsoft Teams software which was set up for remote learning and broadcasting assemblies during the pandemic.