Presentation Evening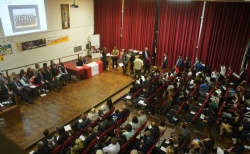 We welcomed back our Class of 2018 to celebrate their outstanding achievements and record-breaking success at Presentation Evening on Thursday 15th November.
Our most successful-ever cohort – and the first to include girls – returned for the prize-giving event, which was an opportunity to reward attainment in subjects, attendance and contributions to school life. Collectively, they achieved the college's best ever GCSE results, with 79% achieving grades 4-9 including English and Maths and 61% grades 5-9.
Guest speaker at the event was former St George student Dr Robert Siddall who gave an inspirational talk about how our college prepared him for a successful career in robotic engineering.
In his speech, Head of School Mr Habberley thanked the Class of 2018 for all their hard work, commitment and inspiration to students who will follow in their footsteps.
Well done and thank you, Class of 2018!