Remembrance Day Tribute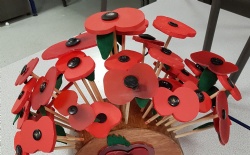 Technology students have created an impressive tribute for Remembrance Day.
As part of our Armistice commemorations, our Year 9 Design & Technology students have produced a wonderful tribute of poppies that will be on display in the main hall throughout November.
The sculpture was created by a team of 21 students, some of whom worked through lunchtimes in order to ensure it was finished in time for Remembrance Day.
Head of D&T Miss Webber said, "The class worked very hard over two lessons and have produced an extremely impressive and beautiful tribute."
Throughout November, we are remembering those we have loved and lost, as well as those who gave their lives for us in conflicts including and since World War One. At 11am on Monday 12th November, a two-minute silence was observed across the college.
Lest we forget.