Prom Update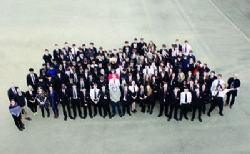 Below is a letter to our former Year 11 students about the cancellation of our prom event this year.
Dear student,
Firstly, I hope you are well and you have, or are about to start your place at college, employment or on an apprenticeship.
We are incredibly proud of you all. The class of 2020 did achieve the college's best ever results and we firmly believe, centre assessment grades or not, that you deserve those grades and would have achieved those results if you had sat your exams.
Unfortunately, the Covid-19 pandemic has caused significant disruption to everyone's lives and still continues to. In view of this, the Government's advice is that we should not hold large gatherings. Consequently, the class of 2020 Prom on Friday 20th November 2020 as well as our Year 11 GCSE presentation evening on Thursday 12th November 2020 have sadly both been cancelled.
If you have already paid for the Prom the money will be refunded. We are advised not to post actual GCSE certificates so please can I ask that you come in and collect them from reception any school day from Thursday, 12th November between 8am and 4pm.
I apologise as this is not the way we wanted Year 11 to finish. We wanted to hold a celebration so you could collect your certificates and meet your teachers again, but the risks cannot be mitigated to consider it safe for you, your parents/carers or staff for the evening to go ahead.
You have handled a very difficult situation so well. Time moves on and being in education a number of years, we have seen changes in grades from letters to numbers as well as new qualifications. None of this has effected those students long-term careers and nor will this.
Take care and you are always welcome back to visit us when it is safe to do so.
Yours sincerely

James Habberley