Well done Class of 2020!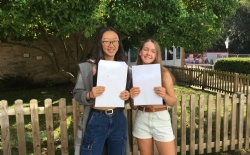 Congratulations to our Year 11 students who are today celebrating fantastic exam success.
The Class of 2020 has shown remarkable resilience, strength and patience during their final year at St George Catholic College. We are immensely proud of how they have handled what have been the most extraordinary, challenging and uncertain times.
There are many individual successes, with three students achieving 10 grade 9s and one student collecting an amazing 11 grade 9s. The grade 9 was introduced to recognise the very highest performing students nationally.
The college was recently named one of the top three state-funded secondary schools in Hampshire. This year sees our best ever results, with 86% of students achieving grades 9-4 in their subjects (including English and Maths) and 63% getting 9-5. Additionally, all students from the Class of 2020 have gained places in further education or training .
Headteacher Mr James Habberley said: "The Class of 2020 at St George Catholic College have had to cope with so much change and uncertainty over the last six months, it has caused a lot of stress and anxiety for them and their families. At St George, as a body of staff, we are so proud of how well they have handled themselves during this period of time. They have shown a tremendous amount of resilience, strength and patience despite the constant changing of the goal-posts and the consistent lack of clarity from the government. We are so pleased that all of our Year 11 students should be able to secure a place at college or further education to continue their careers as provisionally agreed.
"Following a rigorous moderation process, we are proud of the results. Four pupils were awarded 10 grade 9s or above. Overall, 86% of pupils achieved grades 9-4, including in English and Maths, and 63% grades 9-5."It was never easy, in fairness, to find a solution when the schools were closed and exams could not be sat. However, there was a real risk that our students would be penalised and their results could have been downgraded because of a computer programme. The staff at St George know each and every one of the Class of 2020 will continue to be a success moving forward. Congratulations!"