"Afrofuturism" at St George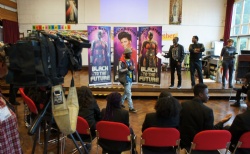 Meridian TV broadcast a workshop that took place at St George in October. The workshop culminated with two poems being composed by students and some students were interviewed for the TV broadcast. The group had a fabulous learning experience and the organisers were impressed by their level of interest, focus and standard of behaviour.
Black History Month is celebrated in the city every October. During the month different organisations and individuals highlight events and activities that accord with the aims and objectives of the month. This year, the theme explored was "afrofuturism". The concept explores the idea of how far individuals have the confidence and imagination to want to achieve beyond what is expected of them. This has clear implications in the education system, particularly for black individuals.
Afrofuturism has become more popular because of success of the film "Black Panther". The workshop which explores "Afrofuturism" was organised at St George with the aim of encouraging young people to paint a future with African comics and poetry as the means of expression.
St George has been continuously involved in the Black History celebrations for the last 15 years and it is the only school in Southampton to have done so. This is a tribute to the school and something unique that pupils should be very proud of.